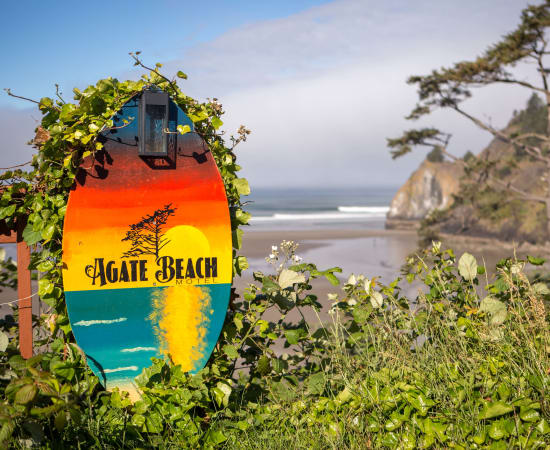 Agate Beach Motel
Agate Beach Motel is closed until April 30, for short term overnight lodging. We are taking reservations for stays after April 30, 2020.
Gift certificates are available for future stays; please call direct 541.265.8746.
Units are available now for 30 days or longer; call direct for more information.
The Charm of the Past for Today's Modern Traveler
Experience the mystique of the Oregon Coast from the comfort of Agate Beach Motel. Our suites are individually unique and offer full amenities including full kitchen, cozy living area, and decks offering unparalleled Pacific Ocean views. We invite you to relax or explore, however you unwind.
Testimonials
"Deserving of all the great reviews—special, romantic, idyllic. Thank you for maintaining such a special, lovely, well-managed, affordable little gem!"
Marina M., TripAdvisor

"The perfect place to stay on the coast. Paula in the front office couldn't have been nicer or made us feel more welcome. The unit had everything we needed plus more."
Jenn M., Trip Advisor

"The rooms were nicely decorated, clean, warm and inviting. A super cozy, comfortable space for a rainy day at the beach."
Lesley M., Trip Advisor

"Preserving the old-time look outside while adding comfortable amenities inside. It's nicely hidden off Highway 101 a mile north of Newport and situated on a cliff above a popular surfing beach that is walkable for miles."
Seattle Times, July 2015

"Excellent place to stay. Very homey cabin feel to the units. Little details make a big difference. Kids love the fire pit, s'mores and movies. Definitely would come back!"